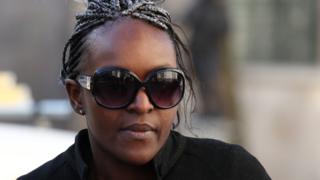 There is to be a by-election in Peterborough after 19,261 people signed a recall petition to remove the city's disgraced MP Fiona Onasanya.
Ms Onasanya, 35, was jailed in January, and released the following month, after lying about a speeding offence.
She was expelled by the Labour Party and had been representing Peterborough as an independent.
A 10% threshold was required to remove Ms Onasanya, who will be allowed to stand in the by-election.
According to a spokeswoman for Peterborough City Council, the number of people who signed the petition amounted to 27.6% of eligible residents.
Commons Speaker John Bercow confirmed the recall petition had been successful.
He told MPs: "Fiona Onasanya is no longer the member for Peterborough and the seat is accordingly vacant.
"She can therefore no longer participate in any parliamentary proceedings as a member of parliament."