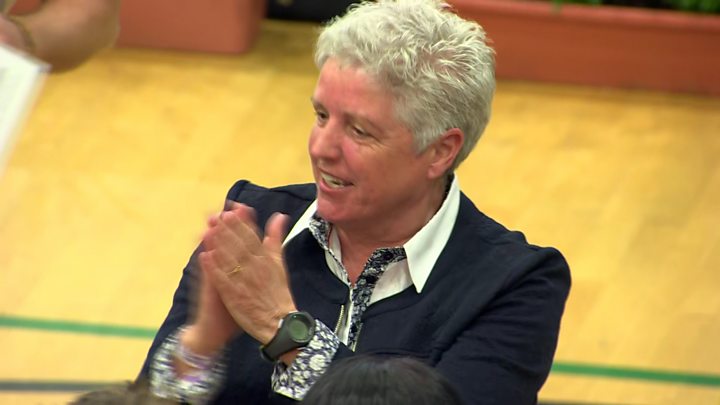 The first-openly gay candidate to stand for the DUP, Alison Bennington, has been elected.
Ms Bennington gained 856 first preference votes and was elected on the sixth count to secure a seat on Antrim and Newtownabbey.
Meanwhile Alliance and the Greens are celebrating early success in the council elections.
Some of their candidates topped polls in parts of Belfast as well as Lisburn and Castlereagh.
There are 11 councils in Northern Ireland and a total of 462 seats up for grabs.
DUP leader Arlene Foster said Ms Bennington's election did not necessarily mean a shift in the party's policy on same-sex marriage.
It is illegal in Northern Ireland and the DUP has consistently opposed attempts to change the law.
DUP MLA Jim Wells said many party members were "shocked by the decision" to let Ms Bennington run.
He said: "This marks a watershed change in DUP party policy and none of the members were consulted about it."
But DUP MP Gavin Robinson said Ms Bennington's election was a "good news story" for his party.
He said: "If you believe in our party's principles, if you stand for our values, if you are prepared to go forward and seek selection and you are selected and elected by the people – then get on and do the job.
"We're not a theocracy, we're a political party."
He added that Mr Wells' views were only shared by a minority of DUP members.
Green and Alliance delight
The Green Party's Áine Groogan topped the poll in the Botanic District Electoral Area (DEA) and has become her party's first councillor in that area.
Elsewhere in Belfast another smaller party, People Before Profit took a seat from Sinn Féin in Collin.
However the Progressive Unionist Party lost a seat as Julie-Anne Corr-Johnston was defeated in Oldpark.
Alliance won three seats in the Ormiston DEA with Ross McMullan topping the poll with 2,622 first preferences.
The party also took a seat from Sinn Féin in Titanic, securing a second councillor in that DEA.
A total of 819 people are competing for 462 seats across Northern Ireland.
Ms Groogan, who was a first-time candidate in the local government elections, told BBC News NI her party had made gains because voters were "fed up with old-style politics".
Elsewhere in Belfast, the DUP's group leader on the city council, Lee Reynolds, has lost his seat.
He only received 586 first preference votes in the Titanic DEA and was excluded on the fifth count.
The SDLP's Mary Durkan has been elected in the Foyleside District of Derry and Strabane Council after her first foray into politics. The barrister is the sister of MLA Mark H Durkan.
Sinn Féin assembly member Raymond McCartney said his party is set to lose "a couple of seats" on that council.
Former mayor Maolíosa McHugh lost his seat.
Mr McCartney said the party fought a strong campaign but that the absence of devolved government at Stormont was an issue on the doorsteps.
He said it would inform Sinn Féin's position going into talks aimed at restoring devolution which are due to start on Tuesday.
Party president Mary Lou McDonald added that the election had demonstrated to her that the political deadlock was "unacceptable".
Meanwhile, Antrim and Newtownabbey voters have re-elected a former DUP mayor despite his recent conviction for drink driving.
The DUP's Thomas Hogg was given a five-month suspension from the council in January.
In Mid-Ulster, Kyle Black, the son of prison officer David Black who was murdered by dissident republicans, was elected in Carntogher.
He said: "Out of absolutely devastating circumstance that will impact out lives forever, I wanted to try and do something positive – to give back to the community."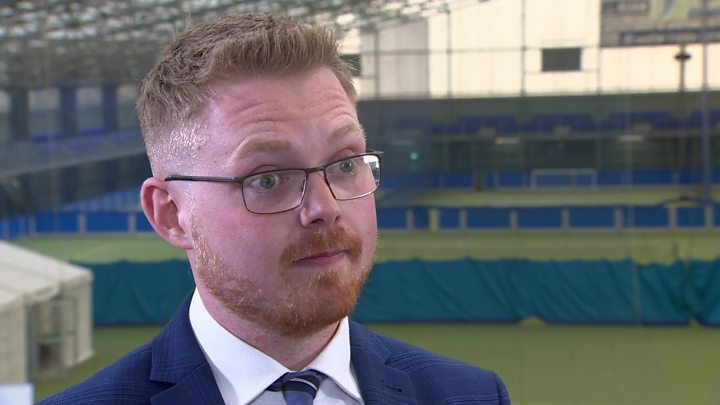 With counting continuing, the results are coming in thick and fast.
All of the main parties and a number of Independents have won seats, but it will be late on Saturday before the full results are confirmed.
Mid-Ulster District Council was the first to declare a result, with Sinn Féin's Darren Totten elected in the Magherafelt DEA.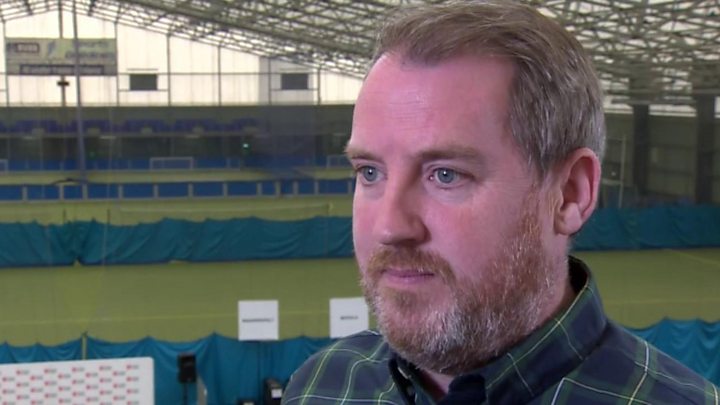 He got 1,665 first preference votes, well exceeding the quota of 1,261.
The Magherafelt counting team were also quick to complete their task, with all five seats declared before lunch.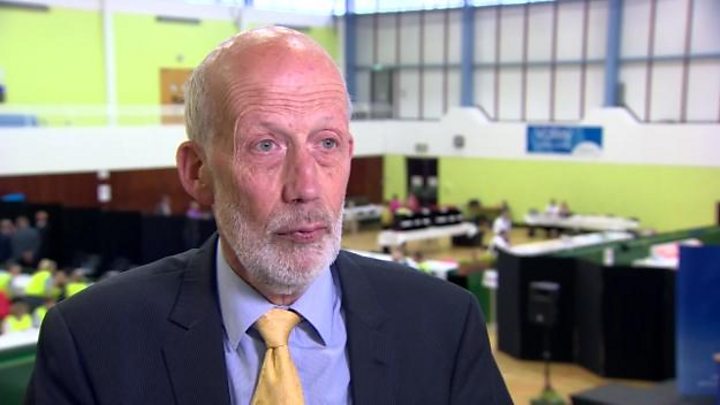 Indications from some of the 1,463 polling stations suggest a reasonable turnout.
Thursday's good weather appears to have boosted voter numbers, but there is a wide variation across the different District Electoral Areas (DEAs).
In County Fermanagh, the turnout was almost 72% in the Erne East DEA.
However, in east Belfast, just over 42% of eligible voters cast their ballot in the Titanic DEA.
It has been two decades since a council election was held on its own, and not in conjunction with another poll.
The official turnout in 2014's council election, which was held alongside the European election, was 51%, and the DUP secured the highest number of seats.
In 2014, 905 people put their names forward for election.
At that time, the Democratic Unionist Party (DUP) fielded the most candidates with 172, followed by Sinn Féin with 155, the Ulster Unionist Party (UUP) with 117, the SDLP with 85 and the Alliance Party with 84.
BBC News NI will cover the latest election results and analysis on our website, mobile app and on Facebook and Twitter on Friday and throughout the weekend.
A dedicated live page will keep you up to date as the results are announced.
There will also be special election programmes on BBC Radio Ulster from 10:00 on Saturday and on BBC Radio Foyle from 17:00 on Friday.
Television coverage will be on BBC Two Northern Ireland at 19:30 on Friday and 10:00 on Saturday, with an hour-long Sunday Politics programme on the same channel at 11:00 on Sunday.