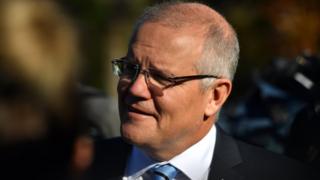 Australian Prime Minister Scott Morrison has been egged by a protester while campaigning ahead of the nation's general election.
The egg grazed Mr Morrison's head but did not break, local media reported. Footage broadcast on local TV showed a woman being tackled at the scene.
An elderly woman was knocked over during the incident, which happened at a Country Women's Association event.
Mr Morrison described the egg thrower as "cowardly".
The event took place in the town of Albury, 330km (205 miles) south-east of Canberra.
Australians are due to vote in a general election on 18 May.