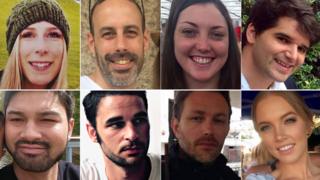 Armed officers kept shooting the 2017 London Bridge attackers because they thought they were wearing explosive vests, an inquest has heard.
Det Supt Rebecca Riggs said officers began to withdraw after gunning down the knifemen on 3 June 2017, but had to fire additional shots when they saw they were "still moving".
People hiding in a nearby pub were injured by shrapnel and a stray bullet.
Det Supt Riggs gave evidence at the second day of the Old Bailey inquest.
She said Khuram Butt and Youssef Zaghba confronted unarmed police officers shouting "Allahu Akbar".
The officers, from City of London Police, shot the pair, along with a third attacker, Rachid Redouane, and they fell to the ground.
'In harm's way'
Other armed officers arrived on the scene and withdrew when Zaghba and Butt had discarded their jackets to reveal fake suicide vests, Det Supt Riggs said.
"They could see that the attackers were still moving," she added.
"They believed they were going to activate the explosive devices they were wearing and they fired a number of shots."
Neil McLelland, who was looking out of the window of the nearby Wheatsheaf pub, was hit in the head by a bullet and fell to the ground, while five other people were injured by shrapnel.
The court heard the officers then put "themselves in harm's way" to evacuate the pub, taking Mr McLelland and others to safety.
Mr McLelland survived his injuries.
The armed officers had got out of their car so quickly they did not put the handbrake on, and the vehicle rolled down the street.