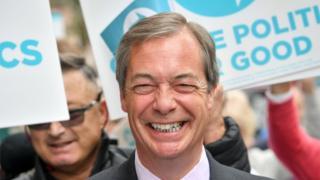 Brexit Party leader Nigel Farage has accused Gordon Brown of "a disgusting smear" in a row over party funding.
At a speech in Glasgow, the ex-PM said The Brexit Party "is making questionable claims about the true source of its funding" ahead of the European elections.
The ex-prime minister has asked the Electoral Commission to investigate.
The Electoral Commission has said it works with all parties to ensure they comply with the law.
Mr Brown highlighted that the commission "has warned of the dangers of multiple, small, anonymous donations being a cover for dirty money".
'Jealousy'
Under the rules governing donations, amounts below £500 do not have to be declared.
An official donation of £500 or more must be given by a "permissible donor", who should either be somebody listed on the UK electoral roll or a business registered at Companies House and operating in the UK.
Pro-EU Labour MP Chris Bryant has also raised concerns, arguing: "It would be simple for a foreign power or individual to fund [The Brexit Party] by paying hundreds or thousands of £499 in sterling or other currencies as the party does not even verify names."
Responding to the Mr Brown's comments, Mr Farage said: "Most of our money has been raised by people giving £25 to become registered supporters."
"And over 110,000 of them now have done that. And frankly, this smacks of jealousy because the other parties simply can't do this."